Our main partner is the Caminhos Language Centre, the largest and most exciting Portuguese Language School in Brazil. Like Eco Caminhos, the school is a "social business" for its students, for the children of the nearby community and for its staff. An organization that does not try to exploit but tries to offer high quality for all stakeholders. The Caminhos Language centre is situated in ipanema Rio de Janeiro where it offers high quality portuguese courses. What makes the school special is its free daily activities in Rio de Janeiro and the fact that the school has it's own on-site social programme for children of Rio de Janeiro. So part of the fee you pay goes directly to the children of Rio de Janeiro.
Evaluated Number 1 in Tripadvisor by its students

To make students are submerged in culture and can practise their Portuguese all they the school has a well established homestay programme in Rio de Janeiro which allows students to stay with local Brazilian families. The school offers students a complete Rio de Janeiro experience without overcharging. The Portuguese group courses in Brazil already start from 22 Reals (+/- 6,5 euros) per hour and the best price in town, The school can simply keep these sharp prices as it has grown to the largest school in town. The best way to double check all these good words about the school is by visiting their tripadvisor page where they are ranked number 1 in Rio de Janeiro.
The school is famour for its activities. Just an idea of how your schedule at the school could look like: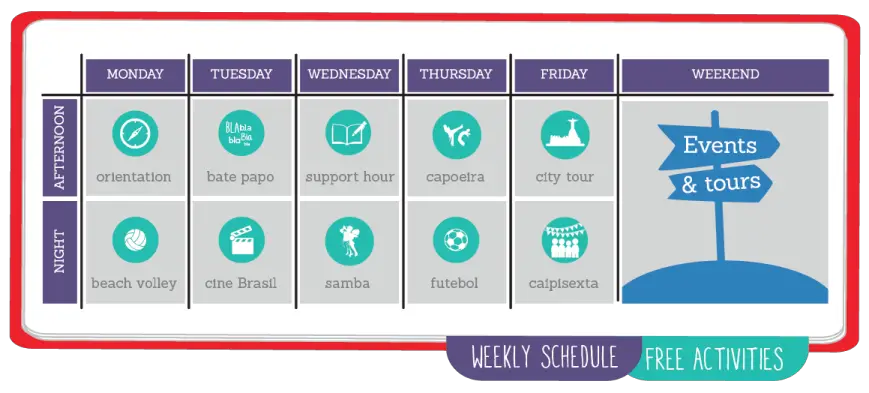 From Monday to Friday your schedule can be fully booked with
fun stuff to do in Rio de Janeiro
. During the years the school has tested a large number of activities and have only kept those who are really popular by the students. In case you like to join Eco Caminhos but would like to start of
learning Portuguese in Brazil
with the Caminhos Language Centre we can organize special custom made package for you that will garantee a great experience.