Why building extraordinary houses?
Eco Caminhos builds extraordinary bioconstruction houses because it preserves the planet, it is beautiful, it is fun and it attracts people. By lifting bioconstruction to another level we expect to catch the atention of the wealthier on this planet. If they get triggered to build these houses we believe it can change their entire concept of what really matters.
Design - The Eco Caminhos Experience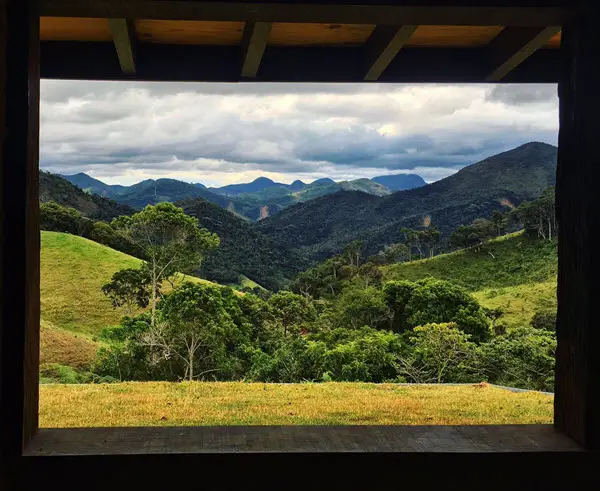 We want people to experience natural rustic bioconstruction housing in the mountains and still have the comfort of any modern designed house. This starts with a design that brings the nature inside your living room, bedroom, bathroom or kitchen. If you look from the second floor window it feel like you are in the grass fields but in fact you are watching over the greenroof.
The Engineering
Now the user experience with lots of windows brought a number of challenges. Friburgo has cold winters and warm summers. Cob turned out to be the ideal technique for the bedrooms and toilets. Thick earthen walls and a green roof that accumulate heat during the day and keep a cool indoor climate inside. At night the walls will give off their warmth. For Our living room and kitchen we came up with a double glass and a solar driven floorheating/cooling system and a fireplace for the peaks in winter and extra comfort if needed.
The 2nd priority we set was the eye for detail in finishes. We wanted to combine eco-friendly, rustic with clean finishes. We decided to use recycled train tracks for the wooden structures of the living room and all the windows and doorframes. For the closets and kitchen cupboards we also used recycled wood but all carefully. The rustic wood with the clean finishes turned out to be a eyecatcher.
To Make the picture complete we are installing a domotica system which will automize lighting, heating, watering of the greenroof, ventilation and shading. This will save energy and increase comfort.
A Glance of the first bioconstruction project.
Indoor Finishes

Finishing the indoor walls

Design House

Pedro Pizarro making the first drawings

Digging

All the digging for the foundation was done by hand

Rock Foundation

Building the foundation rock by rock

Cob Walls

Starting the first cob layer

Reaching first level

Finishing the floor structure of the first floor

Green Roof

Pasa el rato en nuestro salón con café y agua filtrada bien fría

Finishing the structure

After one year of hard work we finished the main structure. A beautiful result

Floor heating & cooling

Installing our solar driven solar heating and cooling
› ‹
The wall of fame
Manager and iniciatior of the project is Bart Bijen. The architects of the project are Pedro Pizarro Villalobos and Jerome Paumen (studioPAS). The construction project leaders where David Gonzales, Marcio Cardinot, Roger Bijen & Edson Cardinot. The building team has assisted by a large number of Brazilian and international volunteers who came to learn about bio-construction.
Do you want bioconstruction consultancy or want us to build your house?
Areas in which we can provide consultancy:
Bioconstruction
Greenroof
Renewable energy
Climate controle
Domotica
Project Management
You can simply contact us by e-mail and we reply to you sap. We can also help you to set up a construction team to build your house anywhere on the planet. Now we can recommend you to come and have a look in Cardinot, Nova friburgo where plenty of land is available. You can participate in the Eco Caminhos proposal and we can build your house for you. Now take in mind that we take bioconstruction very serious and believe that building the house can only become a success if all parties can enjoy doing it. Bioconstruction is time consuming and requires a high qualified and motivated team. In case people contact us for fast and cheap construction projects we do not participate.