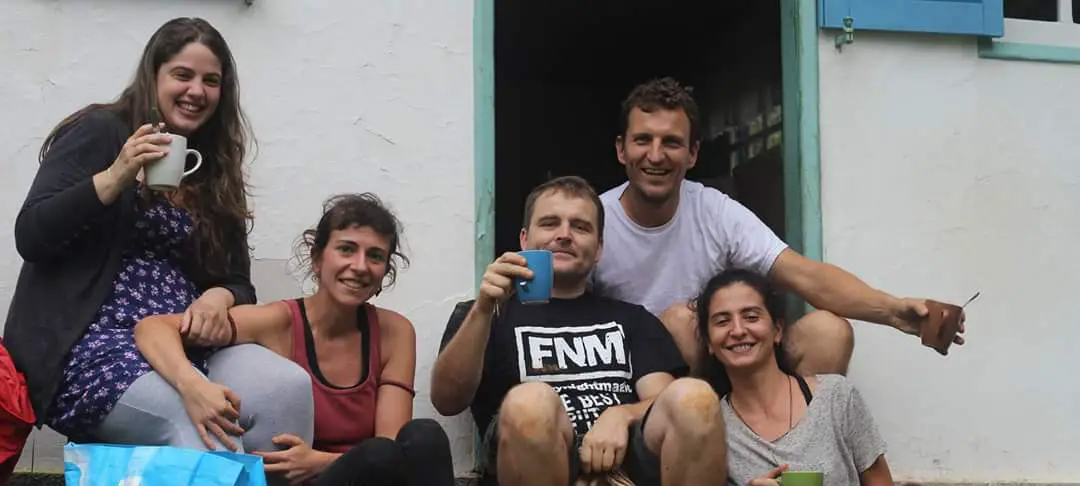 Long-term volunteering is an excellent opportunity for people who are seriously thinking of changing their lives, spend time in nature, produce your own food, build your own bioconstruction house and generate your own energy. We offer a new approach to volunteering and employment. People are at the centre of Eco Caminhos and we need highly motivated, intelligent people to join our cause and team. Now as many organizations we can not heavily invest to attract and maintain qualified people. We believe we have solution that allow people to self-sustain by giving them the freedom to start up their own project and generate their own income. We want to create complementary mini-eco-social-businesses who exchange services, products and share knowledge. Read more about our community philosophy here.
Phase 1: Getting to know each other
month 1 - month 3
You start of in our free volunteer programme where you are offered accommodation, food and Wi-Fi. You participate in a 40 hour routine in the projects that are available at the time (bioconstruction, farming, maintenance etc). In this period both the volunteer and Eco Caminhos get to know each other. We therefore believe working in existing projects allow us to see if you can adjust yourself to the team, hands-on work and keep your motivation up. Each month there is an evaluation where both the volunteer and Eco Caminhos team evaluate each other. At 3 months there is a final evaluation where both sides decide whether they want to continue or not and commit to at least the end of the year.
Phase 2: Iniciating income-generating project
Month 4 - month 7
With a go from both sides the volunteer first needs to decide whether he/she wants to continue in the volunteer house or prefers to rent his/her personal room or house. In case the volunteer decides to stay at the volunteer house it is expected that the volunteer works 3 days per week at Eco Caminhos and 2 days on her/his project. In case the volunteer decides to live on his own expense there are no expectations in terms of jobs at Eco Caminhos.
The project can be anything that that fits within the vision of Eco Caminhos (preservations, social impact, education, farming, bioconstruction etc). There are very limited resources available for setting up projects so candidates either need to set up projects that require very little initial investment or need to capture funding themselves. At Eco Caminhos we have 1 weekly creative meeting where projects are discussed and we all try to colaborate in each others projects. Projects can be individual or in group depending on the individuals preference. We provide ideas for volunteers or volunteers can come up with their own projects.
Phase 3: Generating income and move to independance
Month 7 - year 2
Each project is different and terms will need to be negotiated. The idea in general is that projects first generate an income for the iniciator. All the profit (income - costs) generated up to 1500 reais goes directly to the iniciator. We believe that with 1500 reais it is possible to self-sustain in Cardinot. This includes independant living. The idea is that as soon as a candidate is able to self-sustain he or she starts to live independandly. This can be individual or with other people.
Once the candidate generates more than 1500 reais the profit above this value will go 50% to the volunteer(s) and 50% will be invested in the Eco Caminhos fund which will be used to reinvest in our apprentices programme, bioconstruction, organic farming, sustainable energy, reforestation etc. At this level you stop being a volunteer and are actually self-employed.
Phase 4: Become part of Eco Caminhos management
year 2 - year 3
At this phase you should be earning yourself a comfortable income allowing you to spend more and more time doing what you like most. In case the cooperation with the management of Eco Caminhos flows great and we have build up a trust relationship there are many possibilities: 1) you become manager for one of the main Eco Caminhos projects, 2) you get a profit share, 3) you buy your own property and we help you to build your bioconstruction house, 4) You become shareholder of Eco Caminhos by buying shares or exchanging your skills, resources, services.
What activities can you expect to do?
Full-time volunteers are expected to work in bioconstruction, organic farming, maintenance, administrative tasks and cooking. The work day starts early at 7 AM with a short briefing where the project leader divides the tasks. We have a break at 9:30 and than work until noon when lunch is served. From 1 PM we work until 3.30 PM after which you are free the rest of the day.
Once a week the people of Eco Caminhos unite in the evening to socialize. We usually cook together or make a fire outside. However all suggestions are wellcome. What matters is that we spend time together.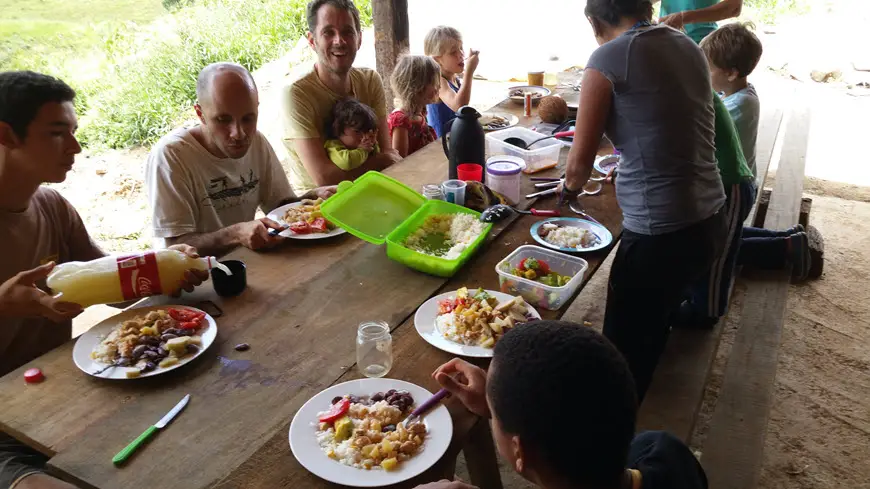 Eco tourism
For volunteers there is organized one special activity per month. Here a few examples of activities we organize:
hiking
camping in the mountains
Visit other organizations that are active in sustainability or social work
Go to Caminhos Language Centre in Rio de Janeiro and attend their Caipi-Sexta
Attend a bioconstruction, permaculture or culinary course in one of the training centres in the region.
We do not charge for any activity however in case there is costs for transport, food or inscription this is for the volunteers.